---
While crypto has been fairly volatile over the past week, particularly over Easter weekend, macro newsflow has been limited. Market sentiment seems to be led by both rising Treasury yields, with the 10 year yield at 2.94% at the time of writing, and sluggish equities markets, particularly the Nasdaq. Cost inflation is generally bad for corporate profit margins, and in conjunction with rising yields creates a challenging environment for tech equities and higher beta assets (given the importance of the discount rate used to value long term profits). This tends to be reflected in crypto valuations being further along the risk curve. Correlations are particularly high of late, with 30 day correlation between bitcoin and Nasdaq at 0.91 as of this weekend, versus -0.6 between bitcoin and gold. Later today, Fed Chair Powell will be speaking which may cause some market volatility depending on potential commentary around upcoming rate hikes.
On the regulatory side, earlier in the week the CEO of Grayscale commented that it is highly likely that a spot bitcoin ETF will be approved at some point. The approval of a BTC futures ETF earlier this month by the SEC has been looked at as somewhat of a potential precursor to Grayscale's spot BTC ETF, given that it was filed under the Securities Act of 1933 — the law under which spot BTC ETFs have been filed. Needless to say, approval of a spot BTC ETF would be a huge catalyst for positive price action in BTC and crypto in general. The deadline for approval by the SEC will be July 6th.
In the Ethereum space, the major news last week was a tweet from Tim Beiko, a member of the core developer team, suggesting that the merge would be slightly later than forecast, most likely in 3Q. While there was no fixed date given, this is later than the more optimistic forecasts of June this year. The ether price seemed to be impacted very little by this news.
On chain analytics continue to paint a mixed picture. Looking at price levels at which coins have been accumulated shows that the majority of coins have been bought by short term holders in the 35-42k range, with much of this being acquired from sellers with cost bases in the 50-65k range from late last year, who capitulated in late Q4-Q1. This is encouraging as it means short term holders are generally under little pressure to sell due to being in loss. Similarly, about 80% of coins remain in the hands of long term holders who are generally much less likely to sell due to price volatility. Dormancy metrics like Coin Days Destroyed and Average Spent Output Life also remain low, indicating limited selling from longer term holders. Net exchange flows for both bitcoin and ether remain very much negative (ie funds leaving exchanges into cold storage), which is also bullish.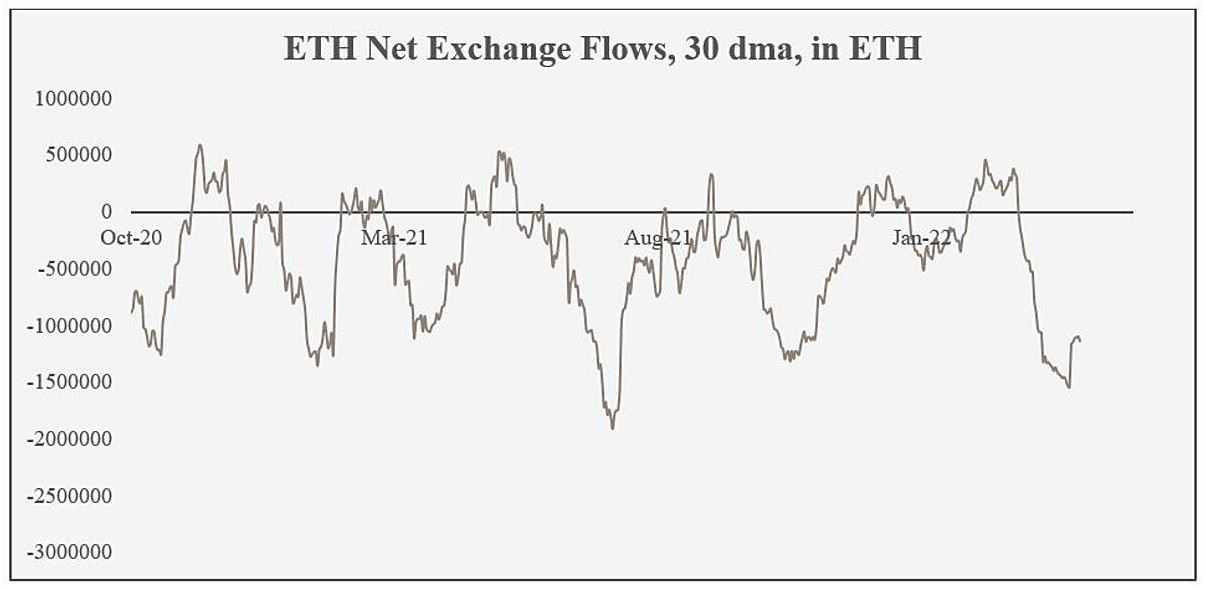 In the L1 space, UST volumes on Terra have started to increase after a relatively quiet period over the past few weeks. Recent volumes have been roughly $100m per day and UST is now at a market cap of almost $18bn. In the Polkadot ecosystem, the Acala team announced an integration between LDOT and LKSM, Acala and Karura's liquid staking assets, as collateral on Terra's borrow/lend platform Anchor.
Activity in the NFT space remains buoyant with both OpenSea and Looksrare delivering ~$200-300m per day of volumes combined. This weekend, Moonbirds, a new NFT collection, launched at a mint price of 2.5 ETH and reached a floor price of 25 ETH within a few hours.
In other news across the space, Circle Internet Financial, the issuer of USDC, raised $400m from BlackRock, Fidelity, Marshall Wace and Fin Capital.
The information ("Information") provided by Cumberland DRW LLC and its affiliated or related companies (collectively, "Cumberland"), either in this publication or document, or on or through https://cumberland.io/, is for informational purposes only and is provided without charge. Cumberland is not and does not act as a fiduciary or adviser, or in any similar capacity, in providing the Information, and the Information may not be relied upon as investment, financial, legal, tax, regulatory, or any other type of advice. The Information is being distributed as part of Cumberland's sales and marketing efforts. Cumberland makes no representations or warranties (express or implied) regarding, nor shall it have any responsibility or liability for the accuracy, adequacy, timeliness or completeness of, the Information, and no representation is made or is to be implied that the Information will remain unchanged. Cumberland undertakes no duty to amend, correct, update, or otherwise supplement the Information. In addition, any person wishing to enter into transactions with Cumberland must satisfy Cumberland's eligibility requirements.
The Information has not been prepared or tailored to address, and may not be suitable or appropriate for the particular financial needs, circumstances or requirements of any person, and it should not be the basis for making any investment or transaction decision. THE INFORMATION IS NOT A RECOMMENDATION TO ENGAGE IN ANY TRANSACTION. The virtual currency industry is subject to a range of risks, including but not limited to: price volatility, limited liquidity, limited and incomplete information regarding certain instruments, products, or cryptoassets, and a still emerging and evolving regulatory environment. The past performance of any instruments, products or cryptoassets addressed in the Information is not a guide to future performance, nor is it a reliable indicator of future results or performance. Investing in virtual currencies involves significant risks and is not appropriate for many investors, including those without significant investment experience and capacity to assume significant risks. Any person seeking to invest in or trade virtual currencies should do so only after engaging in their own research and obtaining their own advice as to whether virtual currencies may be appropriate in the context of their individual circumstances.