---
This week, we are closely following the recent retrace in crypto prices.

Last week, around $562m in crypto longs were liquidated on August 18, according to Coinglass. This was the highest since June 12, which was in the middle of the crypto lending crisis fall out.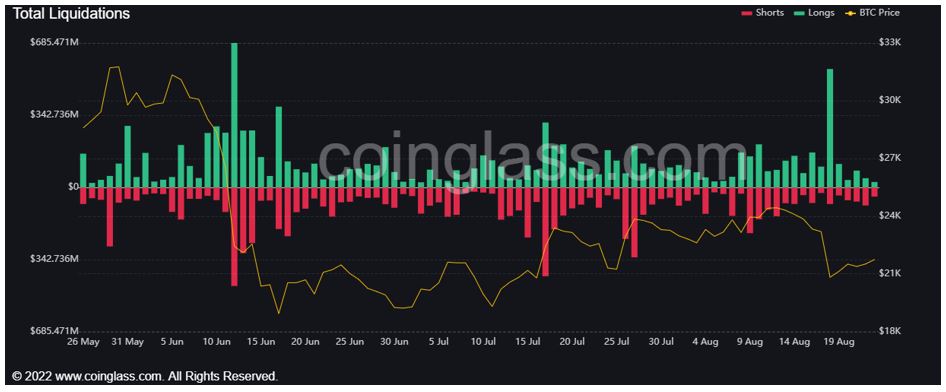 Of course, crypto markets have had their own idiosyncratic headwinds to work through, including the collapse of Terra, Celsius, 3AC and so forth. We've seen the markets significantly rebounding since, with BTC and ETH reclaiming $25k and $2k, respectively, very briefly, but have retraced significantly over the last week (BTC fell 10.22% and ETH fell 12.84%). In addition, every token—with an exception of only a few—was in the red last week. Currently, there's an 0.84% 30-day correlation between BTC and S&P 500, 0.94 BTC and ETH
Prices in general have taken a beating across the board, due to a couple key themes:
1. Inflation and macro headwinds continue to blow
Minutes from the July 2022 FOMC meeting were hawkish, indicating that officials are still committed to raising rates to control inflation.

From the minutes: "Some participants indicated that, once the policy rate had reached a sufficiently restrictive level, it likely would be appropriate to maintain that level for some time to ensure that inflation was firmly on a path back to 2 percent."
Wall Street analysts are suggesting that the Fed saw the easing in financial conditions after the July FOMC meeting—much of which has now reversed—as unsupportive to its mission of keeping the economy on a below-potential growth trajectory, but not challenging enough to reverse its focus to ease the speed of compression.

As we look ahead to the Fed's Sept 20-21 meeting, there remains uncertainty whether there will be a third consecutive 0.75 percentage point rate hike.
And this Friday, Jerome Powell's speech at Economic Policy Symposium at Jackson Hole will keep investors on edge, listening for any changes rate hike expectations.

In a recent note from Goldman Sachs' Economic Research team, they continue to expect the FOMC to slow the pace of rate hikes to 50bp in September and 25bp in November and December: "[We] see the risks to both the near-term pace and our terminal rate forecast of 3.25-3.5% as tilted to the upside. If the FOMC decides it needs to tighten more aggressively this year, we suspect that the Fed leadership would prefer to deliver multiple 50bp rate hikes rather than another 75bp rate hike in September."

Complementing Friday's speech, we will also receive the latest Personal Consumption Expenditures (PCE) price index, the Fed's preferred gauge of inflation. (NB: June's report came back the highest since January 1982)
Europe's situation is looking significantly worse than the US

Citi predicted that UK inflation will reach 18% in Q1 of next year due to a surge in gas and electricity prices (NB: 1976 was the last time inflation numbers hit this level).
The cost of natural gas in Europe hit $410 a barrel on an oil equivalent basis. This, of course, dampens retail participation in risk markets
2. Concerns over crypto regulation are starting to amplify
With the recent OFAC sanction of Tornado Cash, protocols are finding themselves in an incredibly tough spot.

Uniswap banned 253 crypto addresses from accessing the Uniswap front end.

These addresses were either sanctioned by the U.S. government or had directly received hacked or stolen funds from numerous crypto platforms in the past few years;
Aave, DYDX, and Balancer have also followed suit.

Questions over Ethereum's censorship resistance surfaced last week following Flashbots, a firm that specializes in MEV, confirmed that they are, and will continue to be, OFAC compliant;

This raised concerns that other validators (such as Lido Finance, Coinbase, and Kraken) will handle censorship as large validators post-Ethereum Merge;
This also stirred rumors that this might increase the chance of the Merge getting delayed;

The topic was discussed at length during the last Ethereum All-Core Devs call, and this is highly unlikely. We'll continue following this narrative, nonetheless.
Other Going-on ICYMI: