This week, crypto continues to be dominated by macro events, with increasing signs that the global financial system is coming under pressure at higher rates.
The Macro Front
1) The UK's BOE intervention on the back of UK budget, driven by aggressive tax cuts
This intervention led to margin calls in the UK pensions market due to liability hedging.
Liability driven investment (LDI) hedging is where an insurer or pension fund takes client funds and buys assets which they believe will create enough value in the future to be able to pay their clients a series of fixed cash flows when their pension kicks in etc.
As they are fixed cash flows, the NPV increases as rates go lower and so they will go out and receive fixed on an IRS and pay float or buy a long-dated government bond. This allows them to make a profit when rates rally (lower) to offset the NPV increases on the cashflows they have promised.
In addition, the likelihood is that when their asset pile is suffering, the standard correlation would say that rates are likely rallying so those hedges help there too.
Where they get very badly hurt is when their assets are getting trounced and rates are rocketing higher, blowing up those rates hedges simultaneously, as we are currently seeing.

As Alf Peccatiello of The Macro Compass puts it:

"The pension fund industry dynamics could easily force Central Banks' hands at the very moment when credibility is the most at stake. The BoE didn't ''pivot''— they simply had to step in to temporarily stop the bleeding in a systematically important sector. By doing so, they lower (real) interest rates and actively fight bond vigilantes demanding higher yields to fund external deficits and their very own credibility in fighting inflation."

On Monday, the UK government walked back on the 45p tax rate and GBP rose

In response, the market is starting to price in a less aggressive long-term rate view
2) Credit Suisse and Deutsche Bank face deep concern from the market
This week, Credit Suisse saw its shares slide by as much as 11.5% and its bonds hit record lows before clawing back some of the losses amid concerns over the bank's creditworthiness in the wake on bond market volatility.
The situation prompted Swiss regulator FINMA and the Bank of England, where the lender has a major hub, to monitor what was happening and work closely together;
There is also questioning from investors how much capital the bank may need to raise to fund the cost of a restructuring, which the bank is due to reveal on Oct. 27.
As a sign that the market is calming, Credit Suisse's five-year credit default swaps fell around 13 basis points to 308.32 bps from Monday's closing level of 321.10 bps, according to S&P Global Market Intelligence.
Deutsche Bank is also in the unfortunate spotlight with Credit Suisse as trading under 'distressed valuations':
While German default rates remain much lower than that of other countries in Europe, comparisons are being drawn between the two banks. Credit Suisse's share price has fallen 50% in the past six months while Deutsche Bank shares has dropped 36%;
Adding to its headwinds, Deutsche Bank has significant exposure to German corporates and consumers who are heavily impacted by gas prices. Also, the value of the German DAX 40 has declined 25% year to date;
3) The U.S. macro environment continues to hold up though JOLTS suggested the labor market may be cooling
Initial filings for unemployment claims fell to their lowest level in five months, a sign that the labor market is strengthening even as the Federal Reserve is trying to slow things down.
Jobless claims for the week ended Sept. 24 totaled 193,000, a decrease of 16,000 from the previous week's downwardly revised total and below the 215,000 Dow Jones estimate, according to a Labor Department report last Thursday;
The drop in claims was the lowest level since April 23 and the first time claims fell below 200,000 since early May.
However, yesterday August's JOLTS job openings data came in at 10mn vs 11m forecast, which suggests the labor market may be cooling and gave markets further cause to rally

Also while Fed speakers continue to focus on the strong economy, Fed Vice Chairwoman Lael Brainard noted in her speech on Friday at a conference in New York the impact rate hikes are having, which is something of a change in tone:

"We are attentive to financial vulnerabilities that could be exacerbated by the advent of additional adverse shocks." "[on hiking rates] we are committed to avoiding pulling back prematurely. We also recognize that risks may become more two-sided at some point."
Also in the news, was billionaire investor Stan Druckenmiller following a rather bearish CNBC interview who commented:
"Our central case is a hard landing by the end of '23. I will be stunned if we don't have recession in '23. I don't know the timing but certainly by the end of '23. I will not be surprised if it's not larger than the so-called average garden variety."
The Crypto Front
ATOM continued to underperform following inflationary tokenomics announced last week;
USDC market cap has taken a leg down: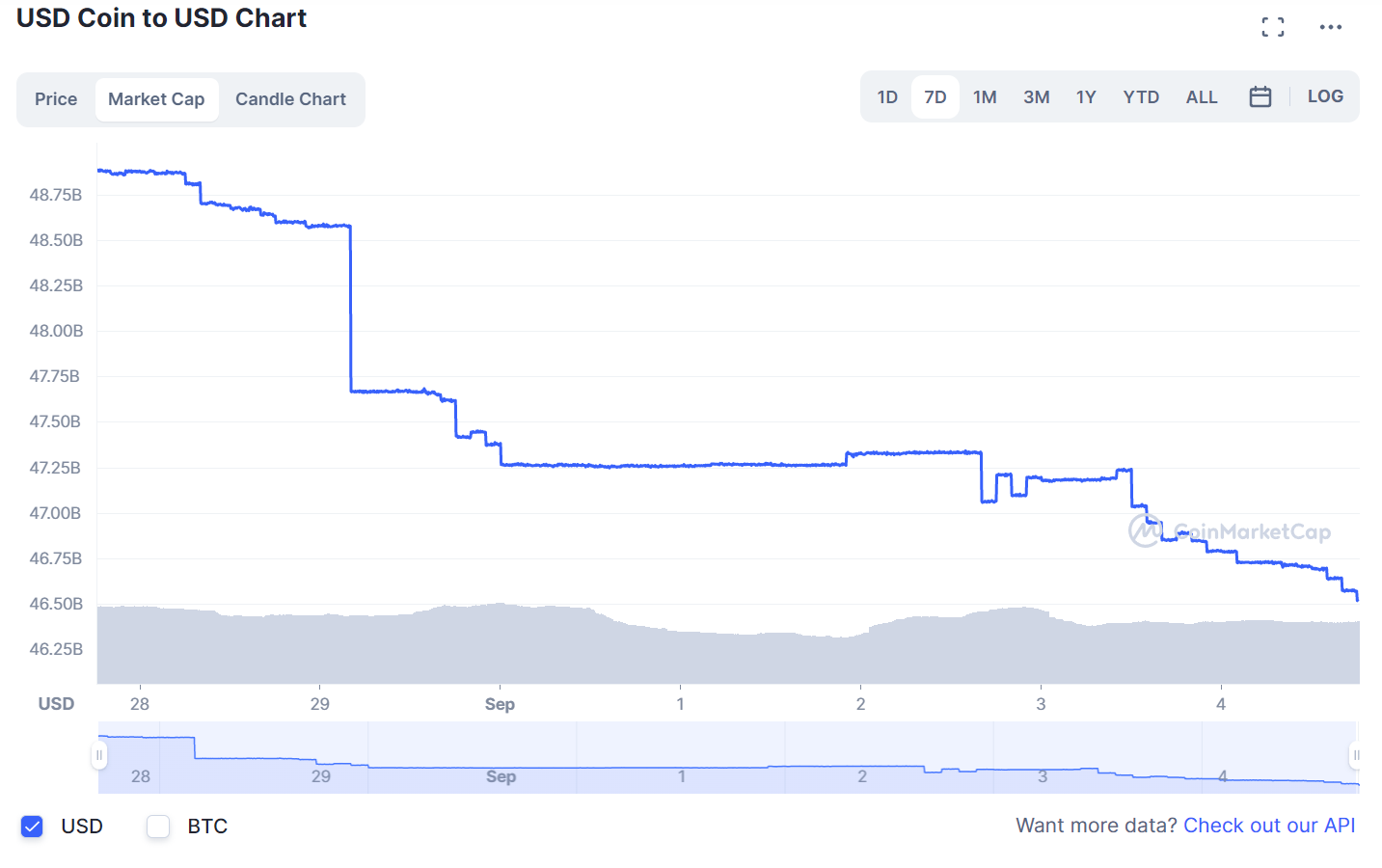 This may be related to Binance conversions taking place.

Earlier in September, Binance, announced that it would begin auto-converting existing and new deposits of USDC, USDP and TUSD stablecoins into its native BUSD—effectively delisting three rival stablecoins. The company says the move will enhance liquidity and capital efficiency for users.
Since Monday, users have been able to start converting their soon-to-be-delisted stablecoins to BUSD at a 1:1 rate. However by mid-week, the exchange said in a blog post it will automatically convert any remaining USDC, USDP, and TUSD balances to its own stablecoin.

Solana had a major network outage on Friday caused by a misconfigured node which caused an unrecoverable partition in the network. This isn't the first time a bug has caused Solana's network to temporarily fail:

In June, the digital asset's support structure suffered an outage of more than four hours.
In January, a wave of blackouts and service issues lasting as long as 18 hours prompted ire from frustrated traders who watched their portfolio values decline while unable to offload tokens.
ICYMI